Best Commerce Coaching in Patna, Bihar
Rankers Commerce is the best commerce coaching institute in Kankarbagh, Patna, Bihar. We have been providing commerce classes in Patna since 2010 with a strong focus on excellence education. Our aim is to provide the best commerce coaching for 11th and 12th students and prepare them for outstanding results in their career. We create a friendly educational environment for students through motivational teaching, expert faculty and top administration.
What do we provide to the students ?
1. Best Commerce Classes in Patna
We provide commerce classes of all Papers for Class 11th & 12th, B.Com (Hons), CA and CMA Foundation courses with the latest syllabus. We offer academic and professional courses as per the recent trend of examinations. The important subjects that are taught in the Commerce stream in Class 11 and 12 consist of Accountancy, Economics, Business Studies, Statistics and Mathematics. We do provide a commerce tutorial program for XI and XII commerce students.
2. Online Commerce Classes
We are conducting online commerce classes in Patna for all courses of 11th, 12th commerce, B.COM, CA and CMA by a team of top CA Faculties. Explore your thoughts with unlimited access to online classes on the topics of Accounts, Business Studies, Economics and more. Online classes are easily accessible on mobile phones, laptop and desktop. Learn from the best study materials.
3. Study Materials
Daily assignments and notes are uploaded on Youtube channels and our website. You can easily subscribe to the channel for upcoming assignments and notes. We provide updated course materials and sample test papers to students which help to prepare for their exams. The test papers prepared by our expert teachers and professors.
4. Weekly/ Monthly Wise Test
We conduct weekly or monthly wise tests for the students to analyse their performance. Our teachers find out the weak part of the students and help them to improve it.
5. Unlimited Doubt Classes
We provide unlimited doubt classes for students every Saturday. Students can ask their queries and questions from the teachers till it gets resolved.
6. Extra Classes for Weak Students
We conduct extra classes for weak students to improve their performance. Our professors pay special attention to the weak students.
7. Best Commerce Coaching in Patna for 11th and 12th
We provide the best commerce coaching classes for 11th and 12th students. Students can excel their career in commerce. We have the best teaching team for all courses of 11th and 12th commerce.
Why is Rankers Commerce the best commerce coaching in Patna ?
There are various reasons to join us and some are listed below. We have built up a strong reputation in the commerce industry in a very short span of time.
(a) Our Class Room Facility:
We conduct separate batches for Hindi and English medium students to understand every topic taught in the class room in an easy manner. We organise weekly and monthly tests to analyze the performance of the students. Unlimited doubt classes are specially conducted for weak students. Our batches consist of smaller size ratios to get a clear concept of every topic taught in the classroom.
(b) Our Expert Faculty Team:
We have experienced CA, CS, professors & senior teachers in the faculty team having more than 8+ years of experience in the education industry. All commerce academic & professional courses are being taught by experienced teachers. They use a professional and simple method of teaching in the classroom. Our teachers pay extra attention towards weak students. Our teachers complete the course syllabus before the timeline. Our Expert Team is known for creating toppers.
(c) Our Fee Structure:
All Commerce Courses fees are very economical and can easily be affordable by students. Fees can be paid through various online modes like GPAY, Net banking and many more.
(d) Our Results:
We are consistently producing 98% results every year. Priyanshu Jaiswal scored 1st rank in commerce and was Bihar Topper in the year 2017. This year 2020 we have scored 100% results in 12th Bihar Board exams.
(e) Our Administration:
We are backed by the top administration team for smooth running of our operation. They plan and manage all our educational events, seminars, and academic events of our institute.
(f) Our Discipline:
We are very strict to our discipline rules and regulations. No Misconduct or improper behaviour is tolerated in our coaching center. Strict action is being taken for violating rules and regulations.
(g) Our Education Environment:
We build a friendly education environment between teachers and students. Students can easily build up a strong relationship with teachers which help them to learn more and understand every topic in the easiest way.
Some of the special features of Rankers Commerce:
1. Commerce Class for CBSE and Bihar Board Students
2. Separate Batches for Hindi and English Medium.
3. Consistently producing 98% results every year in Commerce.
4. Best Faculty Team for All Subjects.
5. Weekly Topic Wise Test.
Admission Eligibility:
1. Students have passed the Class X exam for 11th, 12th commerce courses.
2.Student has passed Class 12th Exam for pursuing commerce in graduation.
Director Message
Dear students, Firstly I would like to communicate my appreciation for the belief you have shown in Rankers' Commerce Tutorial .Our aim is to provide best commerce classes in Patna and prepare students for excellent results. We are known for creating toppers in the commerce field.
Your association with Rankers' Commerce will be the wisest decision of your life, which will make you proud throughout your life. I promise to turn your ignorance into awareness, your fear into confidence and above all, to transform your doubts into strength.
I wish you the best and know you'll find the very best at Rankers' Commerce Tutorial. Know more
JOIN NOW!! THE TOP COACHING FOR COMMERCE CLASSES IN PATNA.
Latest Events
"Top Commerce Courses for You"
Why Join Rankers Commerce ?
We have experienced CS & CA Faculty in our team with a proven track record for maximum toppers in Commerce & B.Com. Our students secured ranks in C.S. & C.A. exams on all India Basis.
touch them if you want
learn from the best
Nitesh Kumar
Faculty Member
CA(P) M. Com
Specialized in Accounts, Tax, Cost Accounting, Management Accounting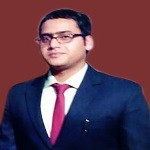 Md. Ali
Faculty Member
CA(P) ,CS(P), M .Com.
Specialized in Maths, Stats Auditing, Law , Eco, BST & Management